<![CDATA[
July 2nd - 9th
ashleyp26 has created a very fresh-sounding Myna mix, using both QuantumTracks and her own custom Roc beats. A great recipe example of how to 'mix' it all together. Check it out!
Leakime
It looks to us like this young storm-trooper (Leakime) has been overlooked for too long so lets put that straight .Favoring all of the apps with some real gems in his gallery and the best avatar on site :) go check out this young artists work and see for yourself, you wont be disappointed
This weeks featured challenge is toucan , terrain and shape draw set by maya6 use toucan as a resource with terrain and shape draw hubs to create some awesome effects in peacock
Business Stationary Templates - Raven - Intermediate
Iphone App Icons - Raven - Intermediate
Peacock Beginner Tutorial - Peacock - Beginner
Composition and Relationships - Raven - Beginner
Tip - Discover output variables
Hover over any pin on a hub in the effects editor Peacock and the information that is passed from that pin will show as a tool tip. This is perfect for finding out the dimension of a hub, or troubleshooting variables. This also works with parameter pins.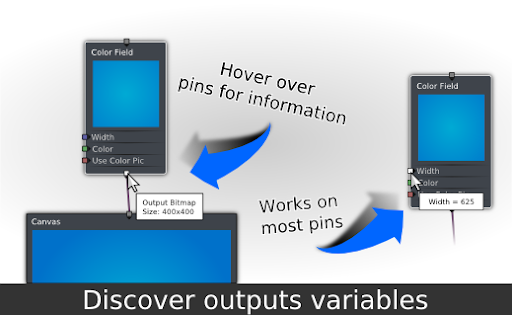 ]]